Ventilator, Respiratory Device Testing
Testing Services for Ventilators & Biomedical Respiratory Devices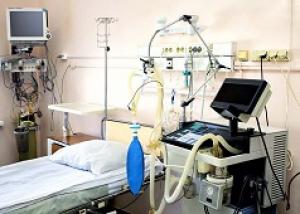 Biocompatibility Testing and Evaluation of Biomedical Respiratory Devices Needed for FDA Approval
It's critically important that manufacturers now involved in the rapid production and refurbishment of ventilators for treatment of ICU patients suffering from COVID-19 not ignore safety considerations with respect to the biocompatibility of these devices. Many polymeric materials used in the fabrication of such devices contain and may emit chemicals and particulate matter that have the potential to cause adverse biological responses, such as respiratory irritation and sensitization, when inhaled. To avoid the possibility of doing harm, biomedical respiratory devices typically are required to be tested and evaluated for emissions of toxic volatile organic compounds (VOCs) and particulate matter in order for manufacturers to obtain FDA 510(k) clearance.
ISO 18562 Biocompatibility Testing and Evaluation of Breathing Gas Pathways
On March 24, 2020, the U.S. Food and Drug Administration authorized the emergency use of ventilators, other devices modified for use as ventilators, and associated accessories that it determines meet certain criteria for safety, performance and labeling. Approval is being expedited. However, safety evaluations are still required for FDA approval. Included in the list of required standards is ISO 18562:2017-1 through -4.
ISO 18562-3, Biocompatibility Evaluation of Breathing Gas Pathways in Healthcare Applications - Part 3: Tests for Emissions of Volatile Organic Compounds, states that all gas pathways from which a patient inspires gas shall be evaluated for VOC emissions subject to a risk management process. Testing, if required, is performed at a time after manufacture that represents the shortest reasonable time that could elapse between manufacture and patient use.
The ISO 18562-3 test requires the use of specialized methods that only a qualified laboratory such as Berkeley Analytical can provide. A clean air stream at controlled airflow rate is passed through a ventilator or ventilator component onto a sorbent-packed tube. The tube is qualitatively and quantitatively analyzed for total and individual VOCs by thermal desorption GC/MS following ISO 16000-6. The acceptable total VOC exposure limits for adults are 360 μg/day for the first 24 hours and 120 μg/day for the subsequent 29 days. Individual VOCs with concentrations 2 μg/m³ or higher are reported and their calculated doses are compared to tolerable exposure level limits for identified and unidentified compounds following the biocompatibility evaluation procedures in ISO 18562-1:2017.
Berkeley Analytical Can Quickly Respond to Needs for ISO 18562 Testing
Berkeley Analytical is an ISO/IEC 17025 accredited testing laboratory with 30 years of experience in the measurement of VOC emissions from many types of polymeric materials including all categories of interior building materials, furniture components, and medical devices. Our lab is equipped with the latest thermal desorption GC/MS equipment from Markes International, the leading provider of this equipment. We operate 30 environmentally controlled test chambers and use Markes micro-chambers for rapid screening of material emissions. ISO 16000-6 cited in ISO 18562-3 is in the scope of our accreditation as is ISO 16000-9 for chamber testing.
Additionally, we test devices for their emissions of particulate matter and have the capability to test materials and devices for metal and organic chemical leachables in condensate. Biocompatibility evaluations of materials and devices in breathing gas pathways by ISO 18562-1 are performed through our collaborations with highly-regarded toxicology and health consulting organizations.
Berkeley Analytical can quickly respond to your needs and is ready to assist you with:
Testing of VOC emissions of ventilators, respiratory devices, & associated components by ISO 18562-3
Testing of particulate emissions of devices and components by ISO 18562-2
Metal and organic chemical leachables in condensate according to ISO18652-4
Evaluations of new materials for biomedical respiratory devices
Testing of VOC emissions of materials used to fabricate face masks
Quality control testing of your material supply chain
Biocompatibility evaluations and consulting on biocompatibility evaluation plans through collaborations with highly-qualified toxicologists