Analytical Services for LEED and WELL IAQ Credit & Building IAQ Complaints
 LEED v4 & v4.1 EQ Credit: Indoor Air Quality Assessment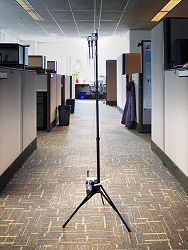 USGBC LEED® v4, EQ Credit: Indoor Air Quality Assessment, Option 2 requires the measurement of the individual VOCs in CDPH Standard Method V1.1 plus formaldehyde and total VOCs (TVOC). With LEED v4.1, the Indoor Air Quality (IAQ) contaminate list has been shortened to only 12 VOCs (including formaldehyde) with defined threshold concentration limits that must be met.  Additionally, the TVOC limit has been removed. Exemplary performance is offered to projects that test for all of the target VOCs specified in CDPH Standard Method v1.2-2017, Table 4-1 and that do not exceed the full CREL levels for these compounds. The test methods include U.S. EPA Method TO-17 for VOCs and TVOC and ASTM D5197 for formaldehyde. Berkeley Analytical (BkA) is an ISO/IEC 17025 accredited laboratory with these methods in its scope as required by the LEED credit. BkA delivers rapid turn-around of analytical results to help you meet tight building completion and occupant move-in schedules. For tips on sample collection, view our air sampling guide, Collection of Air Samples for LEED v4 & v4.1.
WELL v2 pilot & v2: Air Concept, Feature A01 Air Quality, Part 2 Thresholds for Organic Gases
International WELL Building Institute operates two WELL Building Standards: WELL v2 pilot launched in 2018 and WELL v2, launched in late 2020 with the stated objective of reducing barriers to entry. Both points-based standards consist of ten concepts and are broken down into numerous Features, Preconditions, Optimizations. For architectural projects registered under WELL v2 pilot. Feature A01 Fundamental Air Quality is a prerequisite requirement intended to provide acceptable air quality levels as determined by public health authorities. There are requirements for the measurement and ongoing monitoring of particulate matter, carbon monoxide, ozone and organic gases (Part 2). The list of volatile organic chemicals in Part 2 is the same as used by LEED v4; however, the maximum allowed concentrations are one-half the full CREL levels. WELL also uses the older guideline for benzene that was allowed under CDPH Standard Method V1.1.
The WELL Performance Verification Guidebook, Q4 2021 defines the requirements for the sampling and analysis of VOCs, formaldehyde, and acetaldehyde. The allowed test methods include U.S. EPA Method TO-17 and ISO 16000-6 for VOCs, and ASTM D5197 and ISO 16000-3 for formaldehyde and acetaldehyde. BkA is an ISO/IEC 17025 accredited laboratory with all of these standards in its scope of services. Note that there are no geographical restrictions on the use of the test methods, i.e., projects in the U.S. can use either U.S. EPA and ASTM standards or ISO standards. Also, single tube sampling for VOCs at each test location is acceptable for both U.S. EPA TO-17 and ISO 16000-6.
Under the newer Well v2, the prerequisite requirements for organic gases under Feature A01 Air Quality, Part 2, have been substantially revised. For laboratory-based measurements, projects registered under this standard must meet the requirements of benzene ≤10 µg/m3, formaldehyde ≤50 µg/m3, and toluene ≤300 µg/m3. Or, projects may install total VOC sensors at a density of one per every 3500 ft2 and obtain readings of 500 µg/m3 for 90% of regularly occupied hours. One optimization credit is offered under Feature A05 Enhanced Air Quality, Part 2 for meeting the threshold limits for seven specific VOCs. Note that the maximum allowed concentrations are the published guidelines plus a tolerance of +20% for formaldehyde and acetaldehyde and a tolerance of +5% for the other individual VOCs.  All of the laboratory-based requirements are met by BkA's accredited analytical methods.
Building IAQ Investigations
Since 1989, BkA has provided industrial hygienists, building engineers and environmental health and safety departments with IAQ testing services tailored to the customers' objectives. BkA's support services for IAQ investigations include:
Thermal desorption GC/MS analysis of VOCs collected on sorbent tubes by U.S. EPA TO-17 (BkA supplies tubes for your use)
Analysis of sampling cartridges for formaldehyde and acetaldehyde by ASTM D5197
VOC emission chamber studies of field collected products and materials tailored to project objectives
Odor complaint investigations
BkA has 30 years of experience in IAQ investigations. In many cases, we can offer advice on cost-effective sampling and analytical strategies to help you solve IAQ problems and meet your customers' objectives.
Odor Investigations
As a society, we spend on average about 90% of our time in buildings. Not surprisingly, complaints about poor IAQ, such as the presence of annoying odors, are common. Besides being unpleasant, odors can adversely affect worker and student productivity. In many cases, building odors are due to a VOC source that is discoverable by air sampling and analysis.
BkA's analytical reports for odor investigations identify and quantify all of the VOC constituents of air samples down to trace levels. This attention to detail is essential as some chemicals produce objectionable odors at very low concentrations.
BkA also has extensive experience helping building product and furniture manufacturers address odor complaints received from their customers. Product complaints are serious concerns as they have the potential to directly impact sales. BkA uses its extensive chamber testing facilities plus detailed chemical analysis to isolate and to identify the sources of these odors.
Product Selection for Healthy Indoor Environments
Interest in more sustainable and healthy building construction practices is expanding. Testing of products for VOC emissions as part of the design-phase product selection process can help to achieve acceptable IAQ and to avoid unpleasant surprises such as objectionable odors.
BkA has co-authored a report under a NIST contract that provides a detailed indoor air quality architectural specification for use in residential new construction and renovation. The IAQ specification provides best practices for reducing indoor sources of formaldehyde and other VOCs.